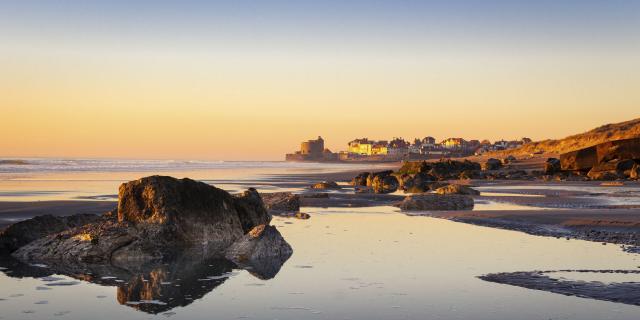 Fresh sea air… everywhere
Savour the vastness of the coast
Face the sea – become at one with the vastness of the coast, breathe, let go of everything and make the most of the infinite horizons to ease the burden of everyday life. Cross the Somme or Authie bays with a guide, admire the breath-taking cliffs of Ault, the lighthouse of Calais or the belfry of Dunkirk, explore the large and majestic site of Les Deux-Caps, lounge on the beaches, or try your hand at yoga on the sand. There are so many ways to enjoy peaceful moments along the Hauts-de-France coast.
Take a refreshing swim
Experience the elements, feel a healthy glow, breathe in long and deep as the refreshing sea sprays your face. Water sports are great for your health and wellbeing. You're bound to have lots of fun on the waves of the North Sea and the English Channel – or "La Manche", as it is called in France. Whether you try "long-côte" – a coastal activity that started in Dunkirk, –take to the water in canoes to view seals in the Somme bay, or try big stand-up-paddle with friends, there is something here for everyone.
Enjoy the revitalising breezes
Let yourself be blown away by bracing gusts of wind that ruffle your hair and breathe new life into your lungs. Feel alive as you challenge your friends to control the rush of wind through a sail. The Picardy and Opal coasts offer 125 miles (200km) of vast beaches that are perfect for land sailing, kitesurfing, windsurfing and flying kites with the kids – the beach at Berck-sur-Mer even hosts an International Kite Festival each year.
Get Fresh sea air in Hauts-de-France